Free Fire Asia Championship - Format & Schedule
2021/11/10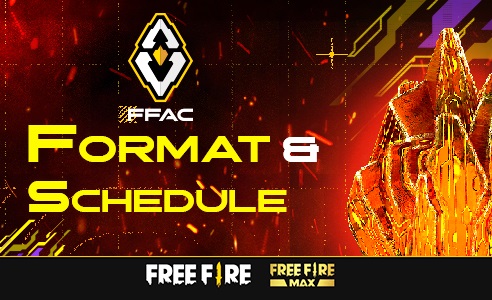 This is an Asian tournament where the best teams from all over the continent will be participating. They have all qualified from their respective regional qualifiers and national championships.
The Free Fire Asia Championship 2021 will be held in two phases. The Group stage will take place on 20th and 21st November, followed by the Grand Finals on 28th November 2021.

Format
31 teams from 9 Asian countries will enter this tournament.
1. India - 4 teams

2. Pakistan - 4 teams

3. Thailand - 5 teams

4. Vietnam - 5 teams

5. Indonesia - 5 teams

6. Taiwan - 4 teams

7. MCP (Malaysia, Cambodia and Philippines) - 4 teams
The seven winners of these seven tournaments will be invited directly to the Grand Finals
Free Fire India Championship 2021 Fall - India

Free Fire Pro League Pakistan Season 2 - Pakistan

Vietnam Free Fire League Series A 2021 Winter - Vietnam

Free Fire Indonesia Masters 2021 Fall - Indonesia

Free Fire Pro League Thailand Season 5 - Thailand

Free Fire Summer Cup (Taiwan) - Taiwan

MCP Majors Season 2 - MCP Region
Schedule
The other top teams from these tournaments will be going to the Grand Finals, which will be held on 28th November. The remaining 24 teams will be divided into two groups of twelve teams each. During the Play-Ins, they will have two days to prove themselves and grab as many points as possible.
Five teams from the Play-ins will join the seven teams that are already in the finals. The top 2 teams from each group, and the third best team overall in the Play-ins will move forward into the finals. The finals will consist of these twelve teams battling it out for the grand prize on 28th November 2021.