Free Fire All Stars Asia 2021: Champions Story
2021/08/03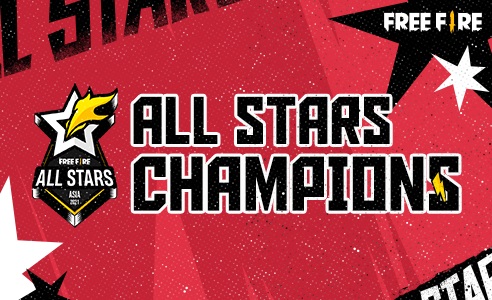 Free Fire All Stars Asia 2021 was a memorable few days with crazy amounts of action. We have always seen our favourite stars play the good old Battle Royale format, but this time we saw them try their hands in a different format too. For the first time, the Bomb Squad mode was played in a big event like this. The best Free Fire players and personalities all in one place is a spectacle that nobody would want to miss. However, if for some reason you could not witness the action, don't worry, we have you covered with the hottest stories from this event from the perspective of the winners.
Bomb Squad - Team Indomee
The Indonesian team won the Bomb Squad mode. Indomee had a dominant start to the tournament. They destroyed their first opponent Hilsha in the quarter finals. They closed out the first match 4-0 and conceded only one round in the second game to win the series 2-0 without even breaking a sweat.
Their next match against Som Tum was a little laboured. Almost all the games went the distance and ended with 4-3 score lines. Som Tum almost managed to pull off a comeback against them during the Semi-Finals. After leading the first game, Indomee failed to conquer the second round and we were forced to go into the third map - Bermuda Remastered. But in the end, they bested them and moved to the Grand Finals.
The final match against Pho was even harder as they were a very well coordinated team. It seemed like Pho wasn't an All Star team that was playing together for fun. It was almost like they had been practicing together for ages and had a hive-mind. Indomee had to rely on individual performances to some extent in order to win. Bion was the MVP for the team, as he was getting the maximum number of kills for his team, and was creating opportunities for them. LetDa had brilliant follow-ups as he was always available for trades. Efdewe didn't do too much damage, but he was playing for the objective by either planting or defusing the bomb. Garduuu didn't perform too well during the start of the day, but he stepped up in massive ways in the end.
Clash Squad - Team Som Tum
All hail Poongod! The young prodigy behaved like a deity amongst mortals as he hard carried his teammates to victory. His unparalleled firepower propelled his team into the grand finals and won them the Clash Squad championship of Free Fire All Stars Asia. They started their journey against a worthy adversary - Sate. Their Indonesian opponents had to rely on trickery and deceit in order to pull off rounds. But even after all their efforts, Poongod seemed unfazed.
In the Semi-Finals, they defeated the Indian team Dosa without any difficulty. The first game ended 4-0. Dosa put up some resistance in the second game because Pahadi clutched out a few rounds. That wasn't enough for Dosa as they eventually crumbled to Som Tum 2-0.
Boba proved to be a worthy adversary in the Grand Finals. The grenades from Roro and Yoyo kept pestering them a lot. Those grenades from Boba were one of the biggest reasons why Som Tum was struggling against the Vietnamese team. Boba also managed to find a way to silence Poongod and targeted him first to increase their chances of winning. TheCruz had to step up in the last few matches, and his backup created a world of difference. Jazminz stuck around with Poongod and acted as the initiator, often sacrificing herself to keep Poongod alive. Som Tum identified that backing up Poongod is their condition to victory. FMPtv came in with some crucial flanks and stopped his team from getting into danger. Som Tum put up a great performance and was eventually able to win the finals 3-1.
Battle Royale - Team Tom Yum Kung
Tom Yum Kung won the Battle Royale leg of the tournament on the final day. They had a flying start to the day as they were able to win the booyah in the very first game. This gave them enough momentum and kept them afloat even during difficult moments. The said tough moments did follow as Tom Yum Kung choked several matches where victory was possible. They finished in the top 3 several times. In all of those matches, Tom Yum Kung had a decent chance to win the game and put up yet another booyah on the scoreboard, but for some reason they were unable to close out the matches. Another opponent, Indomee, the winner of the Bomb Squad tournament was also performing really well. Indomee was able to win three booyahs back to back. After pulling off that hat-trick, it seemed impossible for any other team to win the tournament. Luckily for Tom Yum Kung, Indomee choked in the last two games of the day as they got eliminated early. Tom Yum Kung capitalized on this opportunity and tried to push forward as much as possible. While they did not win any more booyahs after that, Tom Yum Kung's consistency enabled them to slowly and surely close the gap between the two teams and overtake them by the end of the day.
Hoysang and Rambo were the main sources of damage for the team. Osaga and R.I.P Freestyle were able to keep them alive by making sure nobody backstabbed them or flanked them. The team performed really together as a unit, and made some really smart decisions regarding rotations and positioning. Their attack timings were what made them a force to be reckoned with. In several matches, we saw that Tom Yum Kung attacked their opponents when they were at their weakest. What was even better is that this team knew when to disengage when things got too hot to deal with, or when a third party showed up. Their innate ability to sense danger is what got this team into the top 3 in almost every match, and thus got them a bunch of placement points. That's how they were able to win the Battle Royale tournament of Free Fire All Stars.
We hope you enjoyed the show on all three days. We have several more such amazing tournaments coming up for you guys. Till then, stay safe and keep playing Free Fire!!