Free Fire All Stars Asia 2021: Day 3 (Battle Royale) Recap
2021/07/28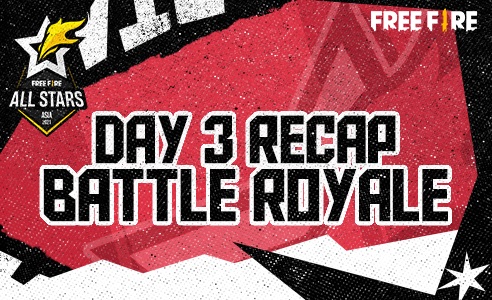 Congratulations to Tom Yum Kung for winning the Battle Royale mode of the Free Fire All Stars Asia 2021! It was a very close battle, and for a few moments it seemed like they wouldn't be able to do it, but the Thai roster pulled it off in the end, despite tough competition from opponents. We had a team get a hat-trick but still lose despite that. Let's take a look at all that went down today.
Tom Yum Kung start the day on a good note
Tom Yum Kung had a great start and an even better finish to the tournament. It all started with some good decisions that they made in the first game. They were engaged in a three-way battle with Hilsha and Biryani. Sate also tried to get a piece of the pie by trying to enter the fight late and fourth-party. The fight was getting too heated, and Tom Yum Kung decided to disengage and head for the zone instead. That turned out to be a great decision because all the other teams involved ended up losing many players and dying to the zone. Tom Yum Kung's decision paid off and they were able to win the booyah in the first game.
They were consistently good throughout the day. There were several instances where they could have won more booyahs, but unfortunately couldn't close out those games. They finished second in Matches 2, 3, and 5, followed by a third-place finish in the last game. This consistent performance is what led to them winning the tournament today, but it wasn't all sunshine and roses. For a moment, there was a realistic threat of the crown being stolen away from them by Indomee.
Indomee pulled off a hat-trick
This team was absolutely insane all throughout the day. While the first game was picked up by Tom Yum Kung, and they were on their way to win the second one as well, Indomee was the team that denied them the booyah and won the second game themselves. They proceeded to dominate the third and the fourth game as well. In this way, they were able to win a game on each and every map - Kalahari, Purgatory, and Bermuda.
By the end of the fourth game, they were sitting at 75 points, well ahead of the competition. The closest team to them was Tom Yum Kung, who had only 56 points. This massive difference of 19 points separated the two teams, and it seemed like it would be enough to keep Indomee in the lead.
Teams from places 3rd to 5th had 38, 37, and 36 points respectively. Pho was in 5th place with 36 points, miles behind the top 2 teams. It's like Indomee was in a league of its own, Tom Yum Kung was a level below them, and everyone else a step below.
But all that changed in Match 5
Indomee had a horrible start to the match as they died right at the start with only one kill. Every other team, especially Tom Yum Kung used this as an opportunity to bridge the gap between them. Tom Yum Kung had the zone advantage in Kalahari. The fourth circle blessed them with a compound in the center of the zone, because of which they could fire away in any direction that they pleased and picked up a bunch of kills. The fifth circle, unfortunately, took that advantage away and gave all the teams an equal footing. Som Tum stole the booyah away from Tom Yum Kung and they had to settle for second place. It was still acceptable, as Tom Yum Kung still got 16 points, and boiled the deficit between them and Indomee down to just three points.
A resurgence from Tom Yum Kung and Pho in the last game of the day
Pho went berserk in the last game and destroyed everyone that they saw. A whopping 20 kill game from Pho blew all our minds away. Dropping a 20 bomb is no joke, and this is a very rare achievement that nobody has done in professional Free Fire before. They were so good, the average viewer would have thought that they were playing a Classic pub game and that they weren't in a lobby with the finest players on the continent. They won the booyah with 20 kills - that is, a total of 32 points in a single game. This catapulted them from fifth place to third.
Indomee had a mediocre game, getting only seven points. Tom Yum Kung on the other hand, finished third place and got 13 points. They needed only 3 points to win against Indomee, but they got 5 extra points. Thus Tom Yum Kung was able to dethrone Indomee and win the tournament! Indomee finished second, while Pho came third.
Thus, the star-studded event came to an end. Indomee won the Bomb Squad event on Day 1, Som Tum was victorious in the Clash Squad mode, and Tom Yum Kung conquered the Battle Royale tournament.
The finest and most popular Free Fire stars put up a great show to entertain everyone for three days straight. We thank you all for tuning in and supporting your favourite Free Fire celebrities. Worry not, for we have plenty of great events coming up to keep you all entertained.