Free Fire All Stars Asia 2021: Day 2 (Clash Squad) Recap
2021/07/25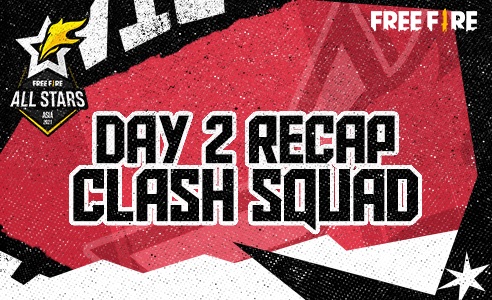 The best stars of Asia gave us quite a lot of top-tier action today, as we continued with Day 2 of the Free Fire All Stars Asia 2021. We had some really fun Clash Squad games today. Lots of comebacks, lots of insane aces and multi-kills, and plenty of rivalry between the teams. This day had it all. Let's take a look at all that happened today.
DAY 2: QUARTER-FINALS
Durian (MCP) vs Com Tam (Vietnam)
Com Tam was a class apart here in the Clash Squad tournament. They obliterated the Durian team 4-0 in both games. Funky took the MVP title in the first match, as he got a triple kill twice in the game. For Kalahari, Dark was the MVP. But for the entire match in general, the load was more or less evenly distributed between the team. Com Tam won the game flawlessly.
Boba (Taiwan) vs Biryani (Pakistan)
Yoyo and Roro from Boba continued to dominate today as well. Their grenades were pretty deadly yesterday, and today was no different. Boba was able to win in Bermuda with a convincing scoreline of 4-1. The only round Biryani conceded was in Clock Tower where they took the central house and high-ground and used that to avoid the grenades.
The Kalahari round was a lot more competitive as Saif and Zaccy were trading frags really well to win the game 4-2 and bring the overall series to 1-1. As we headed to Bermuda 2.0 in the third map, it was Roro who stepped up with a 1v2 clutch in Mill to keep his team in the game, and somehow got the score to 3-3. All his teammates stepped up in the last round in Samurai Gardens to win, and Boba advanced to the semi-finals.
Som Tum (Thailand) vs Sate (Indonesia)
Both these teams were very evenly matched. Sate put in a combined effort, and everyone on the team stepped up to mount a comeback from 1-3 to 3-3. Unfortunately, it wasn't enough to overcome Poongod's dominant presence and his huge 9 frag game that gave Som Tum the first map win. The next game on Kalahari too was just as close. They kept Poongod under check. He was the MVP this time as well, but with only 4 kills. While the overall scoreline reads 2-1 in the favour of Som Tum, don't let that fool you because this win wasn't as clean or dominant as the scores show it to be.
Hilsha (Bangladesh) vs Dosa (India)
The crispy Dosa team was hitting some crispy shots as they put up a flawless win in Bermuda, winning 4-0. Everyone lifted their weight, with Sooneeta and Pahadi getting 4 kills each, and Legend getting 6. Kalahari was a closer affair, as the Indian team conceded two rounds to Bangladesh. Good coordination between Zisan and Nayeemalam allowed Hilsha to pick up two rounds, but Pahadi tore down whatever hopes that they had to go for themselves to finish the game 4-2, and the series 2-0.
DAY 2: SEMI-FINALS
Com Tam (Vietnam) vs Boba (Taiwan)
Both the teams were playing really passively, not willing to make the first move or mistake. Almost everyone just fought only when the circle forced them to come close enough. Boba's and Roro's nading was once again pretty impressive as they were able to win Bermuda with a score of 4-2. The next game was also pretty close. Well-timed flanks from Bacgau and great shotgun plays from Funky enabled Com Tam to tie the game at 3-3, but it wasn't enough to take them over the edge, as Boba won the game 4-3. Boba hustled through to the finals by winning the series 2-0.
Som Tum (Thailand) vs Dosa (India)
Som Tum did not even break a sweat against Team Dosa. They were able to wipe the floor with them in the first game, winning flawlessly with a score of 4-0. In Kalahari, once again Som Tum was able to get the lead and break their spirit. Poongod was pulling off 1v2s and 1v3s left, right, and center. So many clutches by the young prodigy got this team a massive advantage, but Dosa did not let that break their morale. Pahadi and Legend started to play separately to surround Som Tum in multiple rounds of Kalahari. Even though they were playing away from each other, both of them nailed their individual gun battles and coordinated decently enough to bring the score to 3-3. Unfortunately, it wasn't enough, as, in the last round in Council Hall, Poongod blocked Pahadi's entrance into the zone with gloo walls, forcing Pahadi to die to the zone damage. And with that, Som Tum also secured their spot in the grand finals with a score of 2-0.
DAY 2: Grand Finals
Boba (Taiwan) vs Som Tum (Thailand)
Poongod the monster continued his reign of terror here. A squad wipe in the second round got his team an easy advantage at the start of the game. A double kill from TheCruz meant that Som Tum was off to a 3-0 lead. It took a triple kill from Yoyo with his grenades and MP5 to finally halt that winning spree. Although that one round that Boba got was nothing but a minor setback to Som Tum, as they still closed the first map with a score of 4-1.
Boba had a fitting reply to this as they swept Kalahari 4-0, bringing the overall score to 1-1. Yoyo's nades were impressive as usual, but Boba had so much more map control. Som Tum always found themselves getting pressed forward by the zone and having to fight the enemies and the closing walls at the same time. Boba never faced this problem as they were actively taking better positions. So with tact and placement, Boba equalized the series.
A similar trend continued in Bermuda Remastered as well, where Boba was using their positioning to their advantage, but Som Tum had caught on and was able to throw a spanner in the works now and then. Boba tried to push the positioning advantage as much as possible, but Som Tum responded with tactics of their own, and the series was tied at 3-3. In the final round on Nurek Dam, Som Tum outplayed their opponents with smartly placed gloo walls to funnel them into their crosshairs. The narrow corridors of the dam made it easier for the Thai team to do so.
Back to Bermuda for game 4, and Boba decided to start inflicting ego damage as well, as they got 2 punch kills and put the first round on the board. Som Tum did not take that disrespect well, and they proceeded to put all the fun aside and play seriously. They destroyed Boba in every round after that and won four rounds in a row to finish the game 4-1.
Som Tum (Thailand) won the finals with a series score of 3-1 against Boba (Taiwan). They are the winners of Day 2: Clash Squad of Free Fire All Stars Asia 2021.